If you've ever wanted to visit Africa, now is your chance!!!
Next tour dates just confirmed: January 24-February 7, 2018.
Imagine yourself there! In the midst of the beating drums; people dancing, singing, clapping, sweating from the tropical heat. Imagine yourself being a part of that event, playing the drums, dancing. Imagine yourself lying on the beach, next to the palm trees sipping locally made wine from a half-cut gourd. Imagine yourself walking at the tops of the trees, looking out over the rainforest, listening to the sound of the birds speaking, to the sound of monkeys in the distance.
The experience of a lifetime awaits in Ghana with African Skies Music and Dance Tour.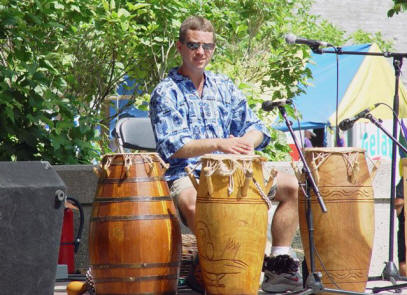 July 23 - interactive workshops at Morris Stampede
July 23 - Drum Cafe at the Cube stage, Wpg Fringe Festival 6:00pm
July 29 - Drum Cafe at Folklorama Kick-off, Memorial Park, 4:00pm
Aug. 8-12 - Drum Cafe at Folklorama African Pavilion
Aug. 13 - Drum Cafe at closing ceremonies for Canada Summer Games
Sept. 21/22/30 - Jay drumming for Shaarey Zedek high holiday services
Past Performances:
April 2 - Drumming workshop and story of Passover at Rady JCC
April 7 - CD release with Casimiro Nhussi, Pyramid Cabaret
March 3-5 - Nafro Dance presents Mapiko at the Gas Station Theatre.
July 8-10 - Drum Cafe performs at Winnipeg Folk Festival
July 17 - Drum Cafe performs at Winnipeg Fringe Festival, Cube stage, 2:00pm
July 23 - Drum Cafe performs at Folklorama Kick Off, memorial park, 4:00pm
July 31-August 6 - Drum Cafe performs at Folklorama Africa-Caribbean pavilion nightly, Grant Park High School
In addition to our series of classes, check out the sessions at McNally Robinson.
Classes for Beginners introduce students to the West African djembe drum. Through fun and uncomplicated exercises students will also develop a small repertoire of rhythms, experience the art of playing a drum solo, and learn traditional drum piece incorporating the Ghanaian bell (gankogui) and gourd rattle (axatse). Fall session dates begin September, dates TBA
Fall/Winter workshops at McNally - Saturday Sept. 23, 10-11:30am, register at www.mcnallyrobinson.com
Classes for Intermediate/Advanced are for those whose have taken at least one full session of hand drum study and have a solid understanding and technical ability with the bass, open and slap strokes. This level will lead students through a further development of ability to improvise on the drums, add more rhythms to the students repertoire and add one or more multi-part drum pieces from Ghana. Fall session dates begin September, dates TBA
Drum Cafe is a series of exciting, interactive, drumming sessions for corporate team building, office party entertainment, school staff team building, school student entertainment, or community entertainment. With groups from 20 - 600, everyone gets a djembe drum to play. More information is available on our website: www.drumcafe.ca.