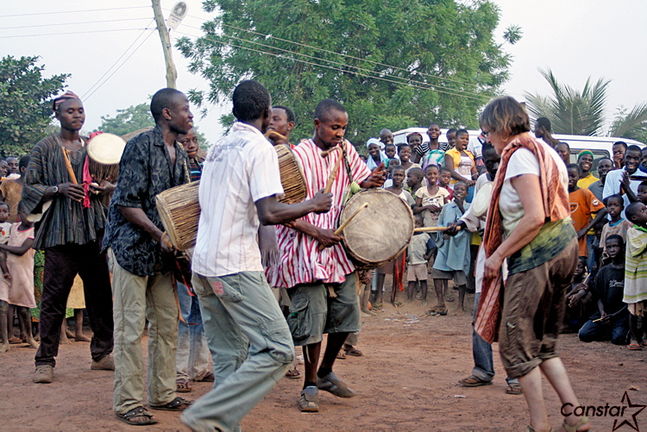 Drumming Trip Opens Ears & Eyes
By: Arielle Godbout, Winnipeg Free Press, March 2011
The beat of the African drum has kept Jay Stoller enamoured for more than a decade.
Stoller, a St. Boniface-based substitute teacher and music instructor, was introduced to African drumming during his studies at the University of Manitoba in the 1990s, when he became involved in a drumming ensemble. "I was just really intrigued by the power of the hand drum," he said. "The connection you feel when you use your hand." But it was Stoller's travels to Ghana to pursue a diploma in African music at the country's national university in 1998 that cemented his love for the musical style. "It was being able to see and experience the music in context," he explained.
Years later, Stoller decided he wanted to share that experience with others and this January he organized a trip to Ghana for those interested in African drumming and dancing. His organizing partner is Christopher Ametefe, a renowned Ghanaian drummer. The seven participants — who came from all across Canada — spent time in three different regions of Ghana with Stoller and Ametefe as their guidesApart from visiting landmarks across the country and practising drumming and dancing daily, the group was exposed to drumming as an important aspect of religious and cultural ceremonies.
Stoller explained he had one main desire for his participants: that "they came away with a deeper understanding and a deeper appreciation for African music."
Bonnie-Jo Jenkinson, a Charleswood resident and tour participants, said her time in Ghana increased her love for African drumming. Since returning, she's built on the knowledge she had accumulated before the trip by purchasing a second drum and seeking further instruction. "This isn't a trip you're going to revisit by looking at photos," she explained. "If you come home and do drumming, it brings you back there." Another participant, Kathryn Luger — who lives in Darlingford, just west of Morden — said she appreciates her new awareness of the diversity encapsulated within African drumming. She said watching a professional performance troupe was very different from visiting a village in the north of the country to witness religious festivals. "They live drumming," she said of the latter experience. "For generations, they have been drumming. It's just in their bones."
Based on the success of the trip, Stoller said a 2012 expedition is already in the works. For more information, visit www.ghanamusictour.com.